Kenworth W900 Limited Edition Recognizes Industry's Esteemed Classic Model
Kenworth is celebrating its centennial throughout 2023. To commemorate this major historic milestone, today Kenworth introduced its 100th anniversary Kenworth W900 Limited Edition. "The Kenworth W900 is an all-time classic and iconic truck in the industry that is still admired on the road and at truck shows," said Jim Walenczak, Kenworth assistant general manager for sales and marketing. "As a long-time staple of Kenworth's history, there is no better way to kick off our year-long 100th anniversary celebration than by launching this Kenworth W900 Limited Edition."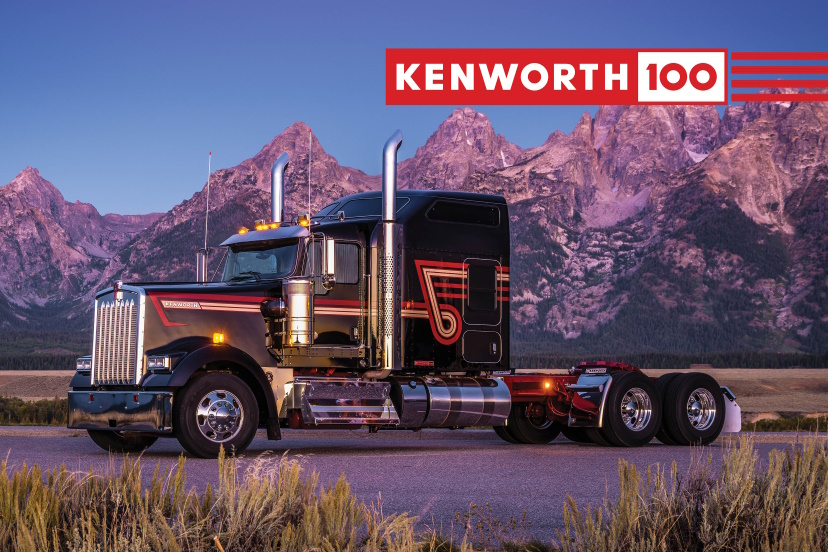 Kenworth W900 Limited Edition
The special model is available in three configurations – 86-inch Studio Sleeper, 72-inch Flat Top and Extended Day Cab. The all-black Limited Edition Diamond VIT has 100th anniversary. Other interior features include a special edition steering wheel, brushed platinum dash and door trim, and Kenworth 100 logos throughout on the doors and thresholds. A Kenworth 100 sofa bed is standard with the 86-inch Studio Sleeper.
Exterior elements include Kenworth 100 sleeper badges. A Kenworth 100 exhaust shield cutout and sun visor are optional. A special optional centennial 3-color paint design brings a classic, impactful look to the W900, and is only available with the 86-inch Studio Sleeper and 72-inch Flat Top.
Kenworth is also introducing four signature paint colors available on new Kenworth Class 8 and medium duty trucks. The new colors are Century Platinum, Century Black Red, Century Red and Century Gold.
"The W900 is a special truck and this Limited Edition is a great way to celebrate 100 years of Kenworth," said Walenczak. "Only 900 of these trucks will be produced, so they will definitely become a showcase vehicle for owners who want a piece of Kenworth history."
Each Kenworth W900 Limited Edition will be serialized – for example, 001 through 900 – in order of build date and sequence with a special Limited Edition badge on the glovebox. The units are limited to 2023 production which began this week.
To learn more about all the available specifications included in the Kenworth W900 Limited Edition visit your local Kenworth dealer.
Kenworth Truck Company, founded in 1923, is the manufacturer of The World's Best® heavy and medium duty trucks. Throughout 2023, Kenworth is celebrating its historic 100th anniversary. To learn more about the 100th anniversary celebration visit www.Kenworth100.com. Kenworth is "Driving the Next 100 Years." Kenworth's Internet home page is at www.kenworth.com. Kenworth is a PACCAR company.