Kenworth T680 Signature Edition Celebrates Company's 100th Anniversary
Kenworth today introduced the T680 Signature Edition as part of the Kenworth 100th anniversary celebration during 2023.
The new offering is available with Kenworth's 76-inch mid- and high-roof sleeper configurations. The Signature Edition Diamond VIT features a black interior with legacy red stitching accents throughout the cab and sleeper. The package also includes a Kenworth 100 branded GT703 seat with red accents special brushed platinum dash and door trim, and Kenworth 100 logo stitched into the sleeper back wall.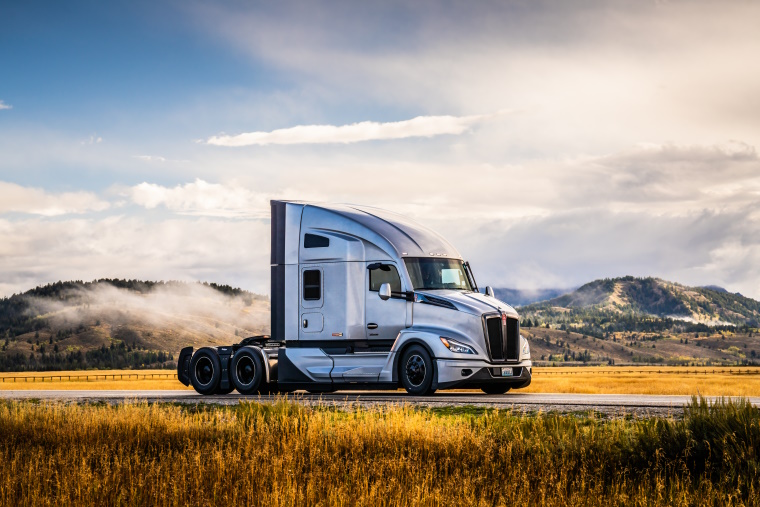 Kenworth T680 Signature Edition




The Kenworth T680 Signature Edition exterior features a black onyx grille and side air intake, and prominent Kenworth 100 badges on the sleeper. An optional Kenworth 100 exhaust shield cutout and black anodized grille mesh are also available on mid-roof configurations. Also optional are new Alcoa stylized wheels with unique spoke patterns in Dura-Bright® and Dura-Black™ finishes.
Kenworth is also introducing four signature paint colors available on new Kenworth Class 8 and medium duty trucks. The new colors are Century Platinum, Century Black Red, Century Red and Century Gold.
"Today's T680 is our most aerodynamic and fuel-efficient truck to date and carries on the legacy of the Kenworth T600 – the industry's first truly aerodynamic model introduced in 1985. This Kenworth T680 Signature Edition is an excellent choice for both owner operators and for fleets seeking an outstanding reward truck for its top drivers," said Jim Walenczak, Kenworth assistant general manager for sales and marketing.
The Kenworth T680 Signature Edition is available for order now. Visit your Kenworth dealer for more details. The production of the special edition is limited to Kenworth's 2023 100th anniversary year.
Kenworth Truck Company, founded in 1923, is the manufacturer of The World's Best® heavy and medium duty trucks. Throughout 2023, Kenworth is celebrating its historic 100th anniversary. To learn more about the 100th anniversary celebration visit www.Kenworth100.com. Kenworth is "Driving the Next 100 Years." Kenworth's Internet home page is at www.kenworth.com. Kenworth is a PACCAR company.